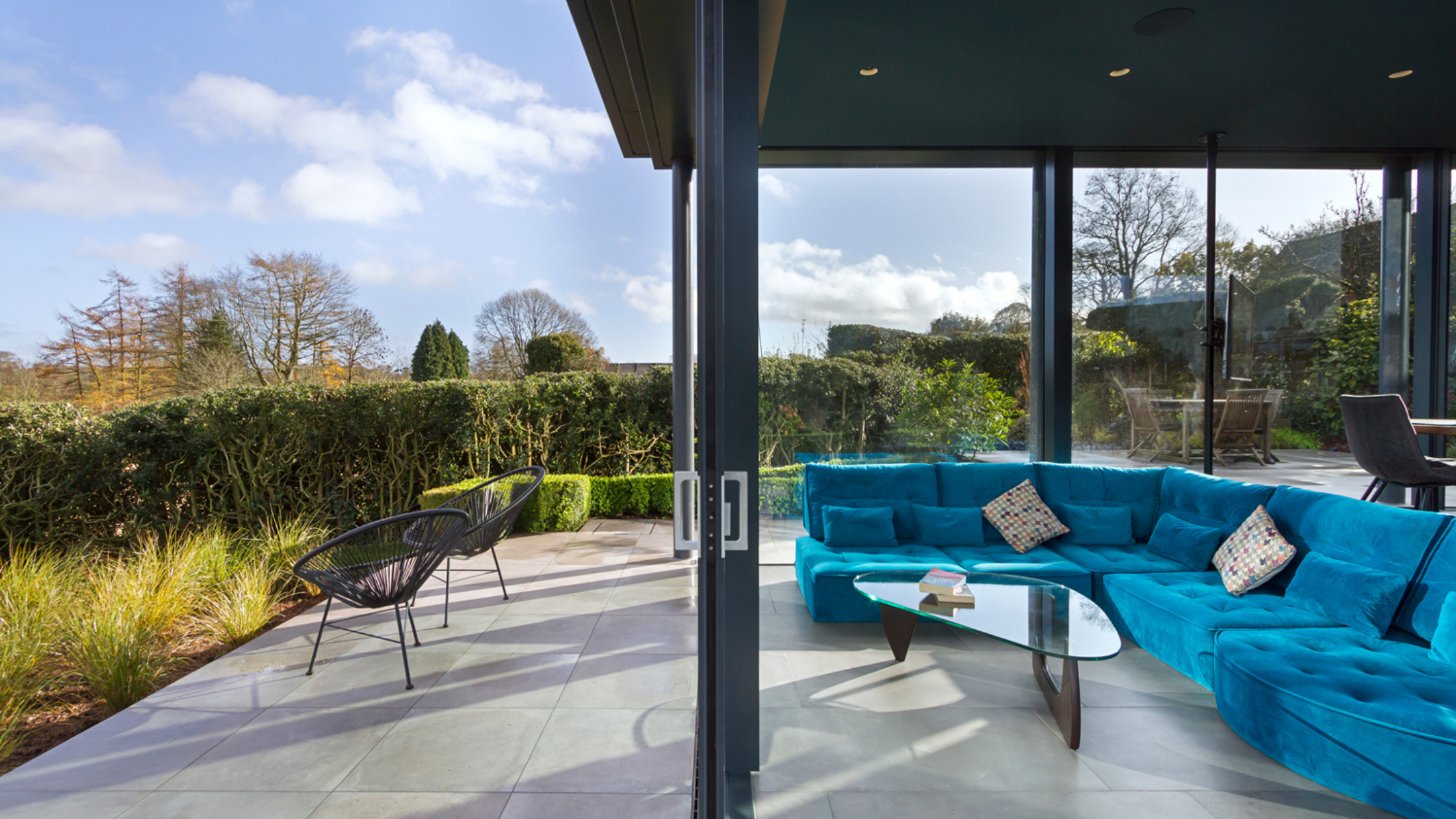 It's that time of year again, the clocks have gone back and our lives feel as though they are now shrouded in darkness, until we see glimmers of light appear in the New Year.
During the winter months the reduction in light can
accentuate dark areas
within your home and it can leave you feeling like you
live in a cave
.
It's easy enough to buy more artificial lighting to brighten dark spaces as this may seem to be the easiest and cheapest solution to the problem.
Is it really the solution to your problem?
Natural light is so important to our health and well being. Improving the levels of natural light in your home can trigger natural chemicals in our bodies called, serotonin.
The more natural light that we are exposed to the more serotonin we produce. As a result we feel less sleepy, more energised and less likely to become depressed. Light has a multitude of benefits our health. Take a look at our previous blog How lightening can spark creativity and it will enlightened you on the benefits of natural day light.
We all aware that Britain is not one of the sunniest countries in the world and more often than not we are faced with cloudy grey days 365 days of the year. This is why it's even more important to maximise the amount of natural light we can gain in our homes.
A good place to start is watching the sun. We don't mean literally sit and watch the cycle of the sun throughout a 24 hour period, but make note of how the sun moves around your home. This will help you to plan where you need to make changes and on what scale. It could be as simple as changing the colour of your walls and fabrics or maybe going a little further and installing roof lights.
Before you make a start take a walk around your home and really look at where you can improve on those dark areas. If you've lived in your home for a while you become accustomed to the style of your home and how you have changed your daily routine to work within your family environment. Think about your budget and the changes you can make to improve your quality of life. Planning can save you time and more importantly, money.
Dependent upon your budget and requirements there will be options to make improvements for any area of your home. Read through the ideas below for inspiration.
1. Roof Lights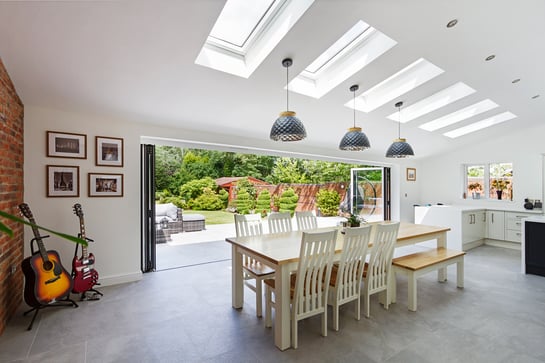 Roof lights are one of the most obvious and common ways to add natural light into your home. Installing roof lights can make a dramatic change to the increase of natural light within a dark space. Even on a dull, grey, damp day the area is flooded with natural light.
There's no needed to reach for the light switch when you have roof lights, natural light spills in making even the smallest of spaces feel light and airy, bringing the outdoors indoors, giving the illusion of extra space.
No pun intended but with roof lights the sky really is the limit. There are so many options available so that create the look you want whilst providing the extra light required. From innovative flat roof systems to atriums and the more traditional light shafts from a standard roof light.
You don't have to stick to one type of window. A clever design could combine the varying roof systems allowing even more light to brighten up your living space. There is a window solution for any space.
There's no need to worry that adding extra windows will make your home less energy efficient. Glazing technology has vastly improved and with enhanced thermo-technology to provide better insulation and if the heavens open they will automatically close. On those dark, cold rainy days you can look up to sky through your new roofing system and feel warm and cosy in your new brighter living space.
For extra privacy or to reduce the amount of light to prevent overheating on particularly sunny days. There is the option to add blinds for your comfort.
2. Solar tubes or sun tunnels
Solar tubes or sun tunnels are as effective as windows, if not better in some cases. Most of us will have a downstairs toilet, a bathroom or a hallway where natural light only enters when you open the door.
Is this the case in your house? In this situation it's not always an option to design a roof light solution as there is no roof to use. Solar tubes can benefit those areas in the home where natural day light barely reaches.
The tube is installed through the roof to dark spaces within the home. They're made from reflective material inside that intensifies the light with great effective for the room below. During installation some tubes may need to be curved or bent to bring light into the home with reduces the strength of the reflected light. When the solar tube is short and straight the power of the natural light is intensified.
Although can't see outdoors through a solar tube it is a great natural lighting solutions for areas of the home where it is impossible to install a window. They are a lot less expensive that roof lights and they can easily be installed in wet areas such as bathrooms because they don't use electricity. Other benefits include;
More energy efficient than electric lighting

Better insulated than skylights or windows

Bring light to interior rooms that do not have outside walls

More secure than standard windows & roof lights. No thief can break into your home through a solar tube!
3. Borrowing light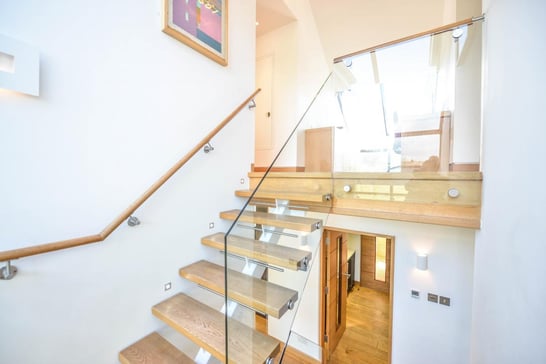 Borrowing light from other areas of the home is a great way light up dark spaces. It may not always be the cheapest option be it is really effective and with a well thought out design it can transform a space, not only by the natural light flowing through the house, it's also a way to change the style of your home.
A glazed panel above an internal storage space and above internal walls and doors can make a dark corridor or storage room significantly lighter, with little need for electric lighting during the daytime. Something to consider is that if you're fitting a glass panel above a bedroom, the glass has to be fire-rated, but not structural.
The use of glass doesn't have to be limited to above the walls and doors to ensure privacy. If you are lacking natural light in a basement room a glazed floor/ ceiling is an exciting new way to increase natural light whilst making it into a design feature for your room.
It's not the cheapest option as the glazing needs to be structural glass suitable for flooring, but in terms of effect it's a great approach to take if you want to add an element of design into home and tick the box in solving the initial problem of light, or lack of it.
4. Replacing internal walls with windows

Replacing internal walls with windows is another way of borrowing light within the home. This doesn't mean taking down a wall and replacing it with an external UPVC window! There are less drastic ways of doing this with a well thought out design to make the space light and stylish.
Borrowing light through translucent surfaces, such as sliding panels or glazed doors, are a way of maximising space in a small area whilst allowing plenty of light to shine in. Sliding panels are a great way to separate rooms. No matter if they're open or closed, when privacy if needed the levels of light are still high.
Don't limit the swings of your sledge hammer to internal walls, an external natural light solution is Nanogel Kalwall. It's a solid material made from silica and has a unique structure that is super insulating, light transmitting and has water repelling properties. See our blog "Be different with 5 innovative home finishes" to find out more.
Remember before you start knocking down any walls, internal and especially external, consult with a good architect who can shed more light on the subject and keep you and your home safe.
5. Decorate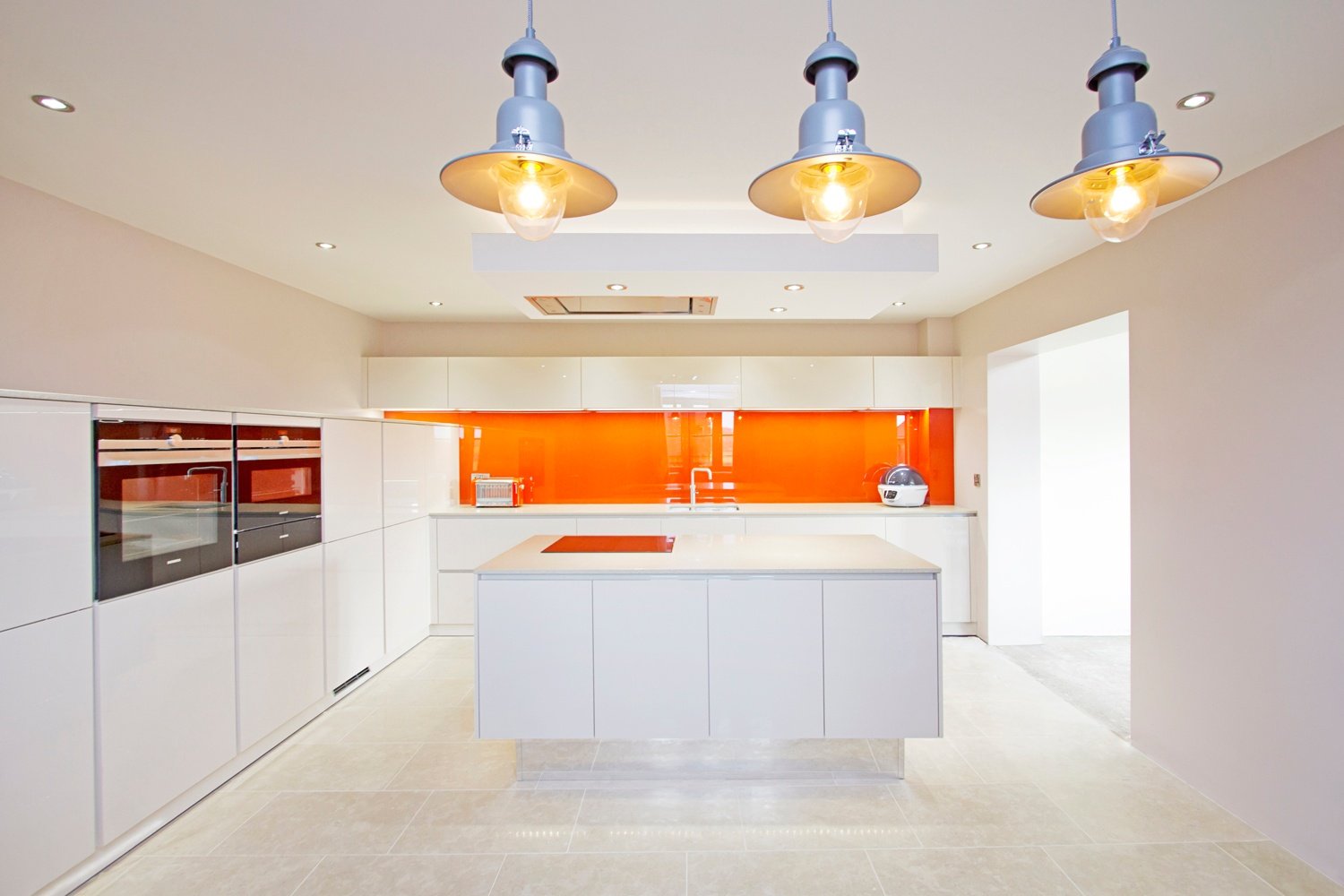 Decorate and change the way that light reflects in the home to increase the levels of natural light. You don't have to go to such extremes such as installing floor to ceiling high windows or knocking down walls. Simply redecorate with a well thought out design to maximise the existing natural light entering the home. Ways to do this are;
Light reflecting paints and wallpaper are really quite effective. The paint contains particles that can reflect up to twice as much light in your living space.

Paint dark rooms light. Warm colours absorb the light and light colours will obviously reflect light making any dark areas instantly appear lighter. A shiny metallic finish will also help to reflect the light compared to matt paints.

Mirrors and metallic surfaces are great for bouncing light around and back into the room e.g. aluminium, stainless steel, copper. Try to incorporate these materials into the design of your home, such as aluminium or stainless steel fittings in the kitchen.
Position a mirror, or mirrors for extra impact, opposite a window to bounce as much light as possible back into the room. Don't limit the number of shiny materials to mirrors and permanent fittings. The more shiny surfaces you can add to your room, the more light you will have reflecting within it. Use chrome or metallic photo frames, light fittings, candle sticks and door fittings.
Remove heavy window dressings.Thick, heavy and dark coloured curtains will only shade the room and prevent light from entering. Although wooden shutters and venetian blinds create a particular style for a space they dramatically reduce the amount of light flowing in.
Light, thin materials will maximise the natural lightening levels in any living space. If you have need for privacy try using sheer fabrics to allow natural light through whilst keeping nosey neighbours out.

Prune your bushes and keep your garden tidy. Overgrown trees, bushes and plants can block the light and create a dark living space. Simply removing or tidying trees and bushes will create an instant impact inside your home allowing light to flood through your windows and doors.
It doesn't have to cost the earth to make changes to the amount of natural light entering your home. Making modifications to your living space to improve your quality of life can easily be achieved with right professional advice from a good architect, a detailed plan and a budget to steer the dream project to realisation.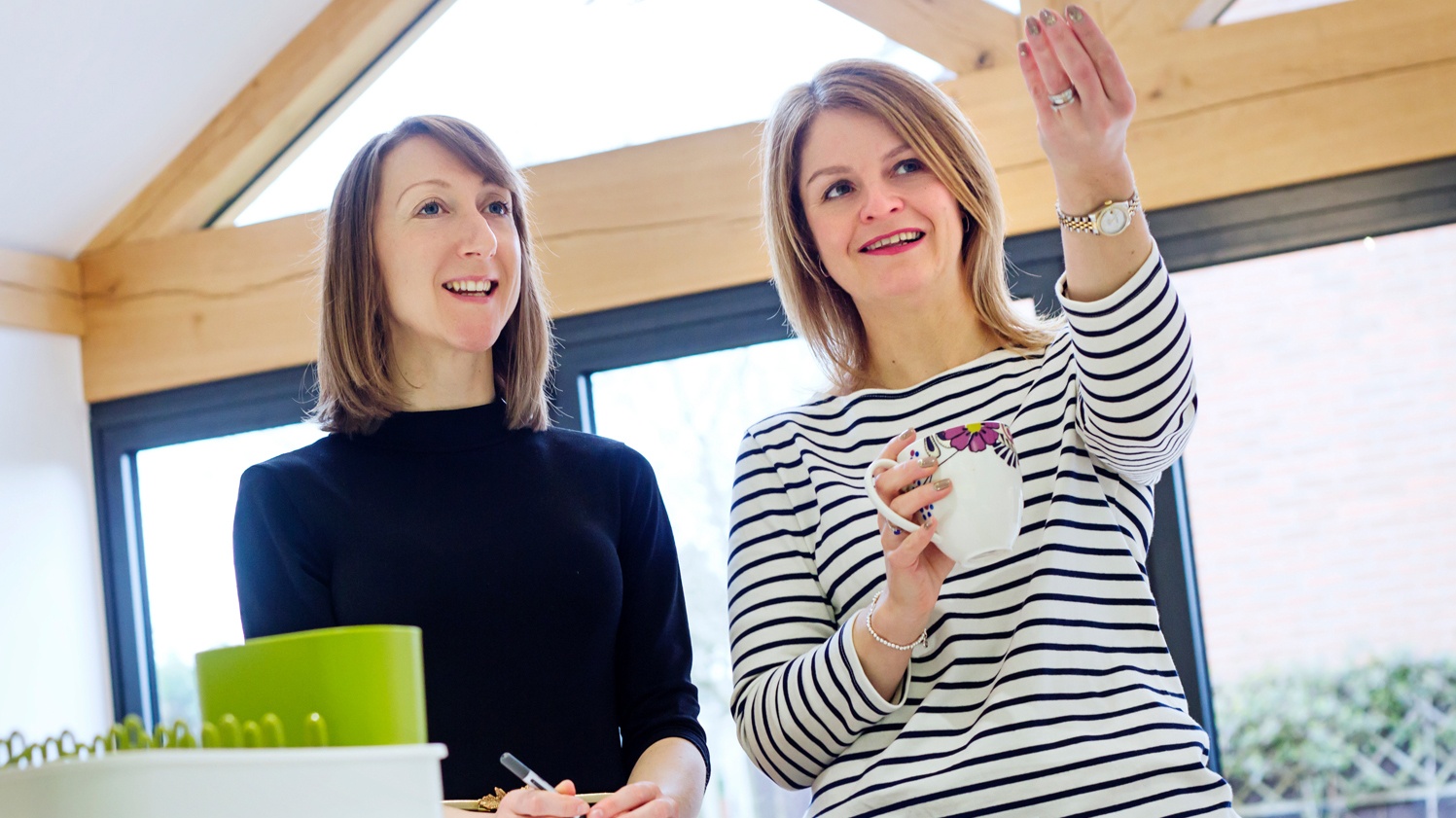 If you're unsure of which direction you need to take, why not contact our team

here

at Croft Architecture to shed light on your home project.