Are you currently thinking of ways to make your home project stand out from the crowd?
You can spend hours visiting home showrooms, looking through magazines and different websites for design ideas, but more often than not someone will have the same use of materials and products.
Don't get sucked into thinking that what you see on the market is all that's available to you. There are so many different ways that you can make your project individual in a cost effective way, you just need to have an open mind.
1. Concrete can be beautiful

What are the first things you think of when concrete is mentioned as a building material?
Maybe the words ugly, grey and soulless spring to mind?
You may think that concrete is only used for multi-story car parks, the foundations of a building or maybe roads.
Concrete is generally overlooked as a creative and multi-functional building material. The reality is that it's really a fantastic material to work with. It comes in a variety of colours, textures and finishes, and can be used for just about anything from floors, walls and worktops to bath tubs and even coffee machines!
Concrete is extremely versatile and can be left as a matt or polished product to your specific requirements.
As concrete begins life as a liquid you can form it into almost any shape, the world is your oyster! You can even transfer photos, motifs or writings onto concrete facades.
If you're working on a budget, concrete is relatively inexpensive to buy in comparison to other popular hard surfaces, such as granite and marble, plus it's a fire retardant material!
Are you sold yet?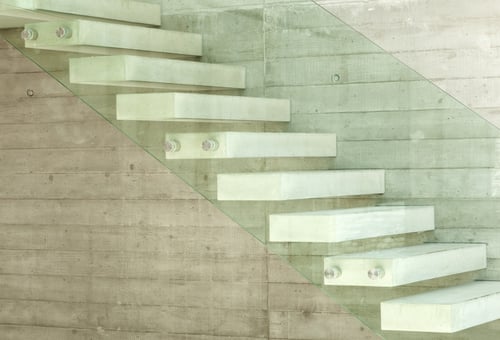 I know that beauty is in the eye of the beholder, but just take a look at some ways in which it can be used that you can't find in your local D.I.Y store or showroom.
Concrete can be used for:
fibre reinforced concrete stairs

kitchen or bathroom worktops

finished floors

printed concrete images

furniture, tables etc.
2. Carbon fibre
Originally used in aerospace, carbon fibre is now more commonplace being seen as a luxury, sleek, high performing product. You may automatically think that carbon fibre is only used for cars, boats, bicycles, and other sports equipment but the reality is you can use it just about anywhere in your home!
Designers love carbon fibre because it is an extremely strong material but so light! The range of home products available in this material display its versatility being used for hanging bathtubs, chairs and tables, kitchens and home accessories and yet it's always produced to an amazing quality.It might not be the cheapest material to use in your home, but if you're looking for a bespoke talking point that's unique to you this could be another material to work with.
3. Aluminium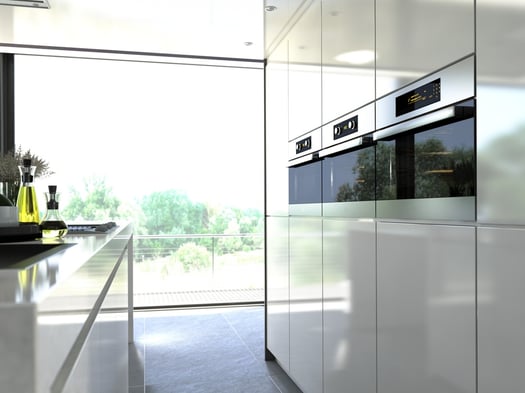 It's light, strong, rust free, malleable and it's a lightweight material making it is easier and cheaper to transport than other metals.
Why not use aluminium to transform your kitchen by using it as a clean, crisp, contemporary work surface. When sourced and ordered straight from a fabricator it's a much cheaper alternative to the showroom kitchen and expensive alternatives, such as granite and marble.
If you're concerned it may look rather commercial for a residential project, don't worry, when teamed with a softer material like wood the aluminium complements the look. The result will be a strikingly simple, stylish kitchen space that is unique to your home.
4. Nanogel Kalwall
Are you currently struggling to get extra light into a particular area of your home project where you require privacy but you don't want to comprise the thermal performance of the house by using glass?

Kalwall with Nanogel could be the solution for your home. It's a solid material made from silica and has a unique structure that is super insulating, light transmitting and has water repelling properties.
Kalwall with the Nanogel Aerogel Material:
increases light diffusion,

eliminates glare allowing soft, even, deep light dispersion

improves acoustic performance

reduces energy consumption due to exceptional thermal performance

is UV stable

resists moisture and prohibits growth of mould, mildew and fungus
The insulating values of the product are comparable to that of a solid insulated wall and can be used as a daylight insulating solution for both walls and roofs.
We think it looks a bit like the paper screens in traditional Japanese houses.
5. A dirty house
Have you ever heard of rammed earth as a building technique?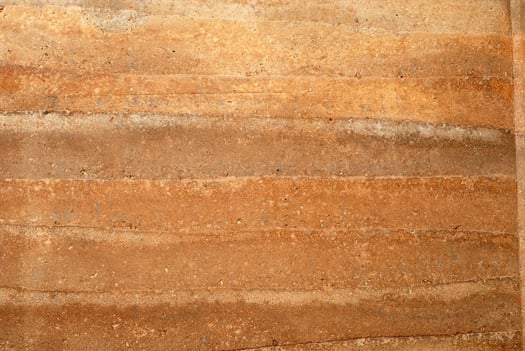 I'm sure that all sorts of images may be running through your mind trying to picture what the finished product would look like when using this building method. Maybe something that resembles an Anglo-Saxon house or a mud hut?
The reality isn't that far from the imagery that the name suggests. It is one of the oldest building techniques that uses mud straight from the earth and is shaped into bricks or layered rows.
The natural patterns formed on the façade look fantastic and cannot be replicated by any other method. Not only does this building technique produce a natural but yet artistic finish, the rammed earth also has an incredible thermal capacity that captures and stores passive solar energy.
This building process has low impact on the environment using sustainable, ultra locally sourced material that you can literally dig out of the site and use.
This a building solution that provides a sustainable home environment for occupants, with improved indoor air quality, acoustics, and thermal comfort whilst the building also expands its sustainable credentials in having a very low impact on the environment.
It's a great technique for using natural textures and earthen colours to allow the building to become a core part of the aesthetic. The result is a superbly interesting home with natural surroundings.
Let us know in the comments which of these you like best, or what you would add to the list.
We hope you have inspiration here for your own project, but feel free to contact our team to discuss your own innovative project ideas.