Designing and building our own homes is an aspiration for many and usually begins in childhood, scribbling away and creating the stereotypical pitched roof, symmetrical square home with a chimney and a path in the middle.
Does this sound familiar?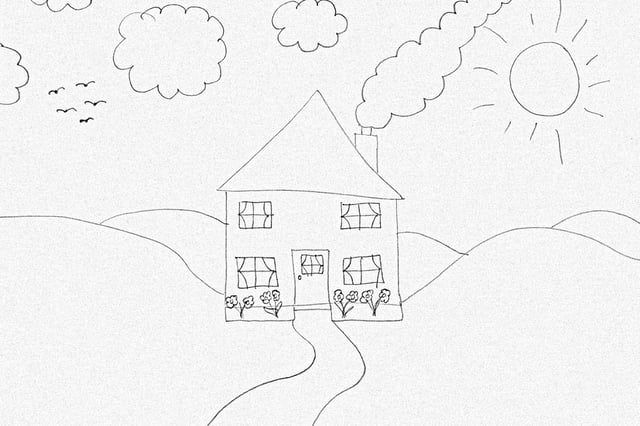 At such a young age we think that anything can be achieved, there are no limits to who and what we can be. We shouldn't let this drive and ambition for creating our own homes fade away into adulthood.
Creating and owning a self-build home is more affordable and easier than you may think.
Don't be put off by the reality TV shows where people endeavour to 'go it alone' without employing the services of a good RIBA Chartered Architect, only to fail due to the lack of experience and knowledge.
Anyone can do it! People from all walks of life can and do self-build. With right advice and guidance from a Qualified RIBA Chartered Architect you can easily and enjoyably make a dream home a reality!
What do architects do?
Many people do not understand the full benefits of working with an architect. Of course they design and obtain statutory approvals, such as planning permission and building control approval, but what else do they do?
Architects have experienced the design, planning, construction of many different types of buildings lots of times before. They'll bring value for money to your self-build development, imagination and design flair, project management, for peace of mind that your scheme is heading in the right direction, whilst keeping a watchful eye on your budget and managing your risk!
A good RIBA Chartered Architect will...
Advise and help you to develop your brief (your wish list) by understanding you & your family. This will help them to make your vision a reality, considering the site, your taste, lifestyle and your budget.

Incorporate innovative and imaginative design solutions that work for your project, reducing costs, & generating ideas to add value to your property.

Prepare drawings and documents to submit for planning approval to achieve permission upon the first submission saving time, stress and money.

Submit drawings for Planning Approval on your behalf and liaise with the planning authority to provide additional information if required.

Once planning approval is achieved they will prepare technical drawings for Building Control Approval.

Advise on quality consultants and contractors.

Assemble the project team, finding the best consultants / contractors to do the job with the available budget and timescales.

Co-ordinate and lead your project team through the design and construction process safely in accordance with up to date legislation until completion.

Manage time, the process, people, problems that may arise and most importantly, manage your budget and risk!

Bring added value to your scheme to maximise your investment. By understanding you, they will know what opportunities to look for.
Getting to know you
A good architect will be a people person, a great communicator, and they'll take time to understand you and your family's situation.
By getting to know you and understanding your needs, wants and aspirations your architect will be able to visualise how your new home will be used on a daily basis. Subsequently they'll be able to create a design solution that responds to the needs of the family, at work, rest and play, for now, and in the foreseeable future, resulting in a family home that exceeds your expectations, and is a pleasure to experience.
Professional problem solvers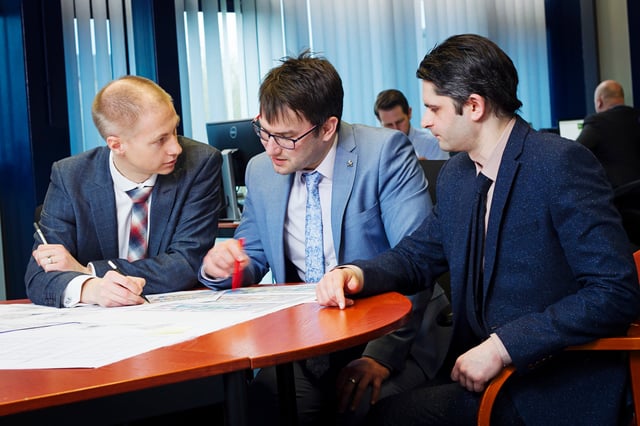 Architects are very experienced in solving design problems, and through their service ensure that many construction and project problems never happen.
Whilst working with a practice of RIBA Chartered Architects you will benefit from the shared experiences and training, ingrained in their processes and procedures. Their knowledge will drive efficiency through your self-build project and help you to avoid the pitfalls that can be present on many projects from varying aspects, saving you time, money and ultimately keeping everyone safe.
An architect's overarching role enables them to have a whole project perspective. This means that they can advise you on the risk or consequences of taking certain project decisions.
Find out more about the importance of using a qualified RIBA Chartered Architectural Practice here.
A realistic budget
Architects understand the costs of construction, and will often sense check budgets to ensure that you aren't over committing on a project.
By choosing to use a good RIBA Chartered Architect they will ensure that the budget for your self-build home is spent wisely, and they will make design choices and develop details that have a multiple of purposes as well as enhancing a space.
It is worth noting that getting the very cheapest service from say a plan drawer, means that you will not benefit from all of the architectural training and safeguards of employing an RIBA Chartered Practice.
This can be a false economy, as a good Architect will pay for themselves many times over.
Selecting the right team
Architects will often advise on the choice of contractors and the need and scope of other consultants services that may be required for your project. They will obtain competitive quotations from suitably qualified contractors and consultants ensuring the best services at a good price within your budget.
They will normally co-ordinate the designs to ensure the whole scheme works as one, and manage the flow of information from consultants and contractors to bring designs together in a timely manner.
Architects are key to managing your risk
They will not only advise on suitable contractors for your project, but they'll also put in place a contract which they will manage throughout the construction.
The contract ensures that the contractor is paid on time, but also that you pay no more than the value of the works completed to any point in the project.
All eventualities will be accounted for in the contract, such as what happens if the contractor delivers a project late, or doesn't turn up on site at all!
It defines payment terms, the resolving of defects and the settling of the final account.
Health & Safety
Another key aspect of your architects' work, will be to plan your project so that it has an acceptable level of health and safety risk, not just during construction, but also when you've moved in and your home is fully operational.
During construction your architect observes site activity, and will identify any particular risks that need addressing to ensure that everyone stays safe. They'll be inspecting the quality of the construction as work progresses, and where work is unacceptable, your architect will instruct the removal and/or rectification of condemned work.
To ensure a smooth operation they will also liaise with the contractor in relation to their programme, assisting with any construction efficiencies, and resolving any problems that are likely to affect the programme of work.
Our blog regarding Construction Design Management Regulations (CDM2015) explains more about everyone's safety role relating to your project. Find out more here.
Architects add value
In short, without the expert knowledge, experience and protection of using an architect, your building project is an extremely high risk venture.
Architects are essential to you and your project for managing your risk. They'll help you to avoid problems giving you a building that either costs you less, or is a much better building for your money.
Working with an Architect for your self-build project will give you a special, bespoke new home tailored to your needs that maximises the value of your site with your available budget.
Our team of qualified Chartered Architects at Croft Architecture will work closely with you to advise and provide guidance on all aspects of the process, every step of the way, from planning permission and building control, to party wall notices, applying for build over sewer permissions, or even applications for service connections etc.
We use our experience, knowledge and creativity, to work closely with you to achieve the home that always you dreamed of.
To find out more about the benefits of using an RIBA Chartered Architect for your self-build project, take a look at our blog How Architectural services add value to your home project.