Many people wonder how to choose an architect, we think it's easy, here's how…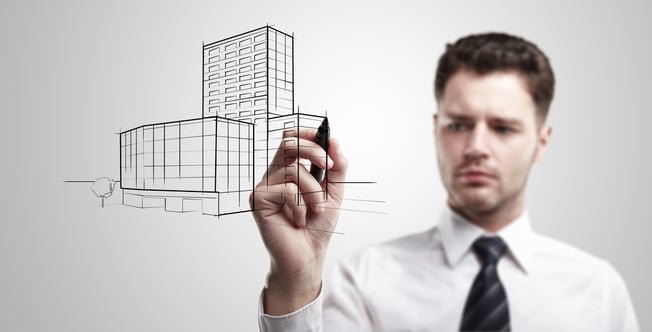 Now I know that you're thinking the next words to hit your eyeballs are going to be "Look no further, come and talk to Croft Architecture". Of course you are more than welcome to talk to us for more detailed advice on how to choose an architect and we can answer your questions personally. However without exception not every project will be suitable for every practice of Architects. So how do you find the right Architect for you? Well read on for our easy steps on How to choose an Architect.
How to choose an Architect? ...
It may sound obvious but many people do not realise that the word 'Architect' is a legally protected title within the UK, and can only be used to describe those who are qualified and registered officially as Architects. Not everyone that provides architectural services are in fact Chartered Architects Practices, and nor are they necessarily required to be so in order to do what they do. This leaves the level of quality of service wide open.
While there are numerous architectural designers, plan drawers (or however they refer to themselves in a legally acceptable sense) that are fairly competent, there are many individuals that are not doing justice to the sector that they represent.
We as a profession recognise that these businesses are not qualified, nor are they upholding the standards of a RIBA Chartered Practice. The evidence is out there on many forums of people who have experience of them, and unwittingly describe them as Architects, and usually not in a flattering manner!
When looking how to choose an Architect, we would always recommend that as a good starting point, choose a RIBA Chartered Practice because this assures you that as a minimum that practice upholds the ARB and RIBA codes of conduct.
These codes of conduct provide for levels of honesty and integrity, competence, and the professional manner in handling client relationships. They also include requirements to provide an appropriate level of professional indemnity insurance (PII) relevant to the size and complexity of the project, and a requirement to have clear and formal terms of appointment.
For those companies providing architectural services, which are not RIBA Chartered Practices, there are no such regulations in the conduct of the company, and as such no assurance on service quality.
RIBA Chartered Practices are listed within the RIBA directory, though you could just as easily do a web search for local Architects and see whether they have the RIBA Chartered Practice logo like the one at the header of this page, and then verify that they are in the directory thereafter.
Find out about the relevance of service.
The relevance of services provided is an essential consideration in how to choose an architect. Generally speaking a large multidisciplinary practice would not be suitable nor interested in undertaking home extensions and alterations. Likewise, a micro business would not really be suitable for a new multi-million pound London skyscraper, however much they might be interested!
Some Architects work solely with one or two market sectors and may not wish to take on work outside their target market. Again referring to the company's website will usually provide the most up to date information of the type of projects that they undertake, and what provides the mainstay of their work.
Contact your practice shortlist.
You will most likely want to make contact with two or three suitable practices and explain your project to them. Usually a practice will want to see the property or site before advising on costs, planning permission and other project details relevant to your particular project. This will usually enable a better quality of advice with which to take your project forwards.
Be sure to ask the Architect about their qualifications, their practice experience (to verify relevance), and their thoughts on your project. It is also worth discussing how much you want the Architect to be involved in your project. Whether you are looking to obtain a planning permission only, or have the Architect run the project through to completion, you are able to decide the extent of services provided.
If all three companies appear suitable for your project needs, you may well be faced with an intuitive decision of how to choose an architect.
We think it is very important to like the Architect that you are talking to, and establish whether you can work together. If your project is likely to take a reasonably long time, then it is essential that you like the Architect, you can work with them, can be understood by them, and you easily understand them.
Appoint the Architect
Once you have selected your Architect, they should provide you with an appointment document for your agreement. Not only is this common sense, but the RIBA and ARB codes require Architects to do this, and to include certain terms and information for clarity. Many Architects will use the RIBA Conditions of Appointment for an Architect as their standard appointment document which may be the domestic or commercial version.
Once signed by both parties, you should receive a copy for your records and reference.
Detailed Briefing
Though clearly by this point you will have made your decision as to which Architect to choose, I think it important to highlight that the briefing to a project is crucial to a successful outcome. The clearer you can be about your requirements at the outset, and what is really important to you, the more successful the project is likely to be.
We would highly recommend that you produce a written brief, and then discuss this with your Architect to develop the brief more fully. Your Architect will be able to guide you in what is or isn't achievable, and highlight some opportunities that may not have been considered in your first draft of the brief.
Getting underway
Once the above is completed, you should be assured of your choice in an Architect that will provide a professional service that will see you through to the conclusion of a successful project, safeguarding your interests as you go, while using their talents to give you the best possible value for money.
If you want any further explanation of the above, feel free to phone, email or even leave a commentjust below here…
Do you have any questions or experiences to share of how to choose an Architect?