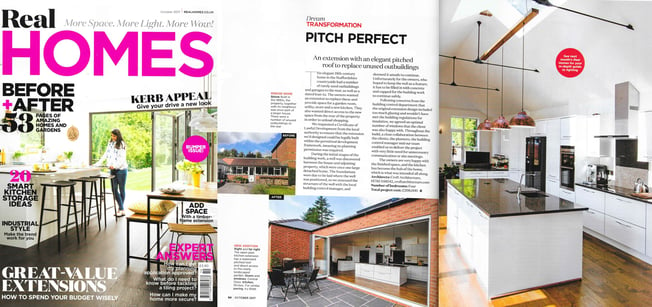 Hi Everyone!
We are pleased to have our project for a kitchen extension and family annex to this elegant 19th-century home in the Staffordshire countryside in the October issue of Real Homes Magazine.
Our clients appointed Croft Architecture to come up with a design concept that would replace the rarely used old outbuildings, garages and dated lean-to at the rear of the property with a modern, light-filled, open plan home extension, creating a design solution that responds to the needs of the family, at work, rest and play, for now, and in the foreseeable future.
Our clients enjoy cooking and spend a lot of time in the kitchen, therefore they aspired for the kitchen to be enjoyable, functional and the focal point on their newly extended home. They also wanted direct access to the new space from the rear of the property in order to unload shopping.
We requested a Certificate of Lawful Development from the local authority to ensure that the extension that we'd designed could be legally built within the permitted development framework, meaning no planning permission was required.
During the initial stages of the building work, a well was discovered between the house and the adjoining property, which were once a large detatched home. The foundations were due to be laid where the well was positioned, so we assessed the structure of the well with the local building control manager, and deemed it unsafe to continue.
Unfortunately the owners, who hoped to keep the well as a feature, it had to be filled in with concrete and capped for the building work to continue safely.
Following concerns from the building control department that the original extension design included too much glazing and wouldn't have met the building regulations for insulation, we agreed an optimal number of windows that the client was also happy with.
Throughout the build, a close collaboration between the clients, the planners, the building control manager and our team enabled us to deliver the project with very little need for unnecessary communication or site meetings.
The owners are very happy with the finished space, and the kitchen has become the hub of the home, which is what was intended all along.
The project features in the "Dream Transformations". So why not, go buy the new October issue of Real Homes Magazine and you can also take a look at the project in more detail here .