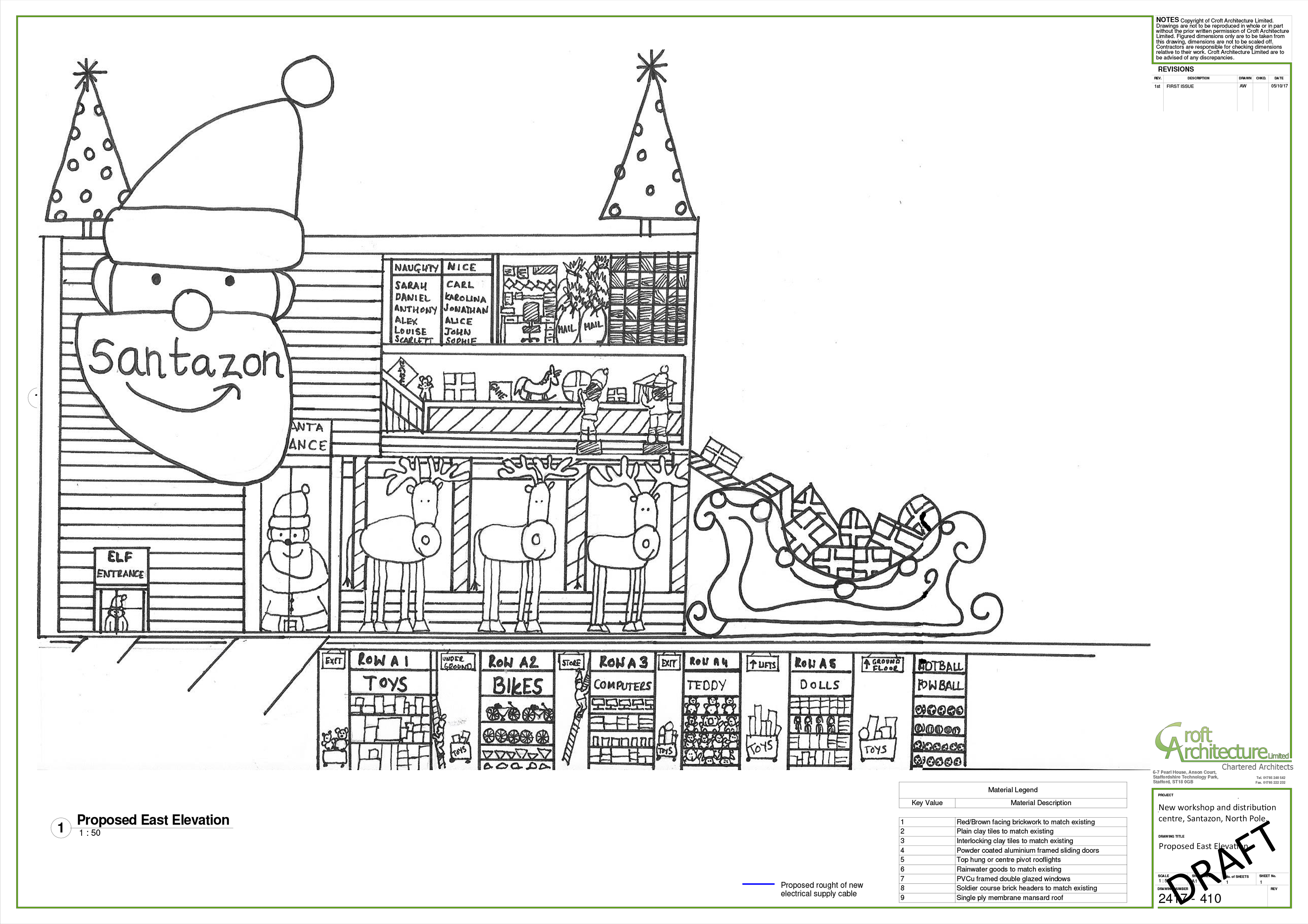 We're pleased to announced that we have won a contract

to design a new workshop and distribution centre

at the North Pole.
Don't let the red suit and white beard fool you, Santa Claus is a very clever entrepreneur!
In fact, his business is booming! He's doing so well that he's commissioned us to design a new workshop and distribution centre up in the North Pole.
Now that he's built himself a reputation that's timeliness, providing value and consistency he now needs larger premises to accommodate larger teams of workers, storage and new equipment to keep up with customer demand.
In Brief
We were initially appointed by our client, Mr Claus, to alter and extend his existing workshop to facilitate future business growth. As with any company that's core business is distribution; time and minimal disturbance is of the essence to Mr Claus. He required help from our team at Croft Architecture to swiftly and successfully create a design solution that delivers a functional working space with the capability to grow as the business continues to succeed and expand.
Our Approach
Although our initial scheme worked very well, ultimately it became an unviable proposition to extend the complex. We were approached by our client to look again at where we could re position the new workshop and distribution centre on the North Pole site.
The new plans consisted of the relocation of the workshop and distribution centre and a new business which would also be incorporated with the relocation which is; 'Santazon'.
Croft Architecture are busy working with Mr Clause to create a new premises in time for Christmas 2019. What are your thoughts of his new distribution centre?
Find out how our team of architects can help you to develop more inspiring properties that increase demand and value here.
Merry Christmas and a Happy New Year from us all at Croft Architecture.
While the office is closed for from Christmas from Tuesday 25 December 2018, but we are back on 2nd January 2019.