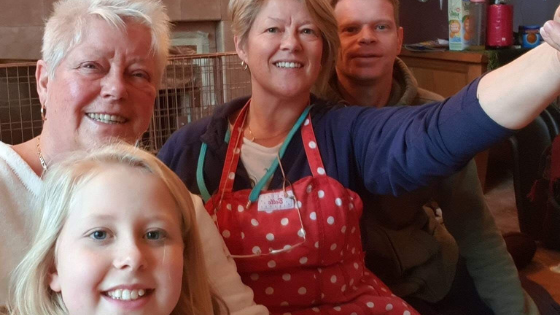 Cast your mind back…
Four years ago, we met with our client, Kimberley, to discuss how we could help her to transform the ground floor living space of her grand Victorian home. Her family was growing and their lifestyle and living patterns were struggling to work in a property that was designed for family life over a hundred years ago.
Although the existing property was particularly generous in terms of size, the layout and shape of the ground floor living accommodation didn't provide the functional space for everyday family life.
Kimberley wanted to demolish and replace the old lean-to outbuildings at the rear of the property with a single storey extension for a new kitchen/dining/living area. In addition to the extension she also aspired to have a separate building in the garden to allow her to escape from the hustle and bustle of family life and to concentrate on work and hobbies.
And now…
The building works were completed three years ago in March 2016. We've been invited back by Kimberley to find out what a difference her new extension and garden room has made to her family's life, and how it's helped to begin a in chapter in her life.
We're pleased to be able to share Kimberley's journey with you over the past three years.
So, let's find out a little more about how things are going.
Over to you Kimberley....
Three years has gone by in the blink of an eye, how are you and the family?
Extremely well thanks. After the project finished, I started a dog boarding and day care business from home called Pawsome Holidays.
The business was born after I was made redundant whilst the project was being built. As any business owner will know it's not an easy task to set up your own business and to get the momentum going with clients, especially when you have a young family look after and your house under construction.
It's been hard work establishing the business at times and still can be, but it's so rewarding. I couldn't have even entertained starting a dog care business in the house as it was prior to the extension. It just wouldn't have worked, and we probably wouldn't be sitting here today if we hadn't completed the extension. I think we probably would have sold the house and moved, but we didn't, we ploughed on with the project and so pleased that we're still here today.
Everyone I talk to says that I've changed, and since starting the business I seem much more relaxed and happier. I look back now and realise how different our lives were in the house prior to the extension and the amount of time I used to spend dedicated to my previous job. I was working 8-hour days and in addition commuting 3 to 4 hours each day, plus coming home and looking after a big unfunctional, dark house and a young family.
The way we use our home now has obviously changed because of the dogs, but besides this, the new kitchen space has made us change the way we live for the better. This room is the 'heart of our home ', we all spend most of our time in here together, the dogs, the children, my mum, my partner and me.
Now that you have a larger house has the new extension and garden room affected your utility bills, have they gone up?
No, the bills have just stayed the same, there's no change in bills at all.
In 2016 when the building works completed it was March and quite cool in the extension. Soon after we had a new pump fitted on the boiler and it made a vast different in the temperature within the new kitchen extension. Now on a cold winter's day it's nice and toasty in here. There are only 3 radiators in this space, but with the glazing and the high spec insulation it's snug without turning the thermostat up. In fact, I'm even contemplating removing all the radiators from the kitchen extension and getting a log burner instead.
The new extension has solar gain from the moment the sun comes up until it goes down. On a sunny day from sunrise it's very warm in here, it's lovely. In summer it can be baking hot, but it's great because we can throw the bi-fold doors open and let the breeze cool us down.
The new kitchen extension is a warm room in the summer, but we have the full-length bi fold doors to stabilise the heat. I'm extremely happy with the new space it's worked out just great. In fact, I'm not just happy I'm incredibly happy!
Have you had the property valued since you've had the work done?
Not officially, but at the time of works we did ask our friend who's a local estate agent what they thought the property would be worth when complete. Roughly, he thought that it would it would be valued around the £500K mark.
If you had an official valuation this could potentially be higher because of the bespoke design of the extension and garden room. Your property isn't average semi-detached house and could be worth more.
Just winding the clock back how did you find the process as a whole? What were the good bits and what were the bad bits?
I can remember it as if it were yesterday. I recall the very first meeting we has when you said to me. 'Why don't you move the doorway in the kitchen? It would be great to be able to look right through to the front of the house from the kitchen.' I thought, wow that's a revelation, and it was the best revelation ever. It's completely changed the flow of the house.
I think for me the frustrating part was the planning process, in terms of going through the whole process it was all a bit alien. The time involved is very lengthy and it was frustrating having to wait so long for a decision.
Initially I thought that our project was particularly simple because we were only knocking down the old lean outbuilding and replacing it with something new, improved and on the same footprint to make it more liveable.
It certainly was a very testing part of the process because we couldn't have the garden room that we originally wanted from our initial plans. I can understand our neighbours' and Fulford Parish Council's concerns that the building could have been sold off as a separate property and of course that was never ever going to be the intention to do that.
It's baffled me that what we originally wanted was smaller and less imposing compared to what we have actually built, and it's been allowed under permitted development too.
For me this point in time was probably the lowest and hardest point. I thought at the time 'should we just not bother, and sell up and should we just cut our losses and just loose the money that we've already spent out and find a home elsewhere?'
At that time Permitted Development rights were changing, and we were able to redesign the garden room within the permitted development criteria and to fulfill your design requirements too. We rarely have any setbacks with planning, so we don't advise clients to design in order to fit within the framework of permitted development. If we initially designed along the permitted development route, then we would end up with a certain style of building.
Going down the Permitted Development route has actually resulted in us having a much larger building than we intended but it's certainly a very useful space now that I have the business. I can escape from the main hub of the home and get some peace and quiet to concentrate on marketing and my accounts.
My mum and I also use it as a craft space and hobby room and when my daughter has friends over, they end up going up there for some private space away from us.
We've also been thinking of using the garden room as part of the business too. It's so flexible that we can use it for a variety of purposes.
Post planning – how did you find the process through the technical design? Was it easy enough to understand?
Luckily my previous job involved looking at complex things and understanding them, so I didn't find it too difficult to interpret the technical drawings. If there was anything, I didn't understand I knew Anthony would be able to easily explain the technicalities to me.
Technical drawings are mainly about the technical information for compliance and pricing elements for the building contractors. Our architects like to just tease the information out that's important to you which is mostly the dimension, the finish and the appearance.
If I remember right, we amended the technical drawings after consulting with our building control officer as he was concerned that the room would be over glazed with the bi-folds and additional windows on the same elevation?
Yes, that's right. I'm glad that the two windows were removed now, and I'm pleased at the room is in terms of the amount of glazing. Initially I thought I wanted as much light as possible because we'd been living in such a dark house, but I'm pleased as it is.
What would you do differently next time?
If I was going to do anything different next time, I'd go through the electrical plan in more detail. At the time when the technical drawings were being produced, I didn't consider the number of electrical sockets being applied in the room and where they were being placed. I now know that when you get into the details of adding or removing electrical items it can make a big difference to the cost.
There isn't anything that I don't like about the space. There are perhaps some small individual things that I would have done differently. For example, I wouldn't have chosen aluminium windows because of the quality. Even though the frames are insulated we still get condensation because they're a cold frame.
We chose aluminium because of the thickness of the frames. We wanted bi-fold aluminium and to ensure that the style followed through we chose aluminium for the rest of the windows.
If I had to do it again, I'd perhaps change the style of the bi-folds for the garden room. The bi-folds that were installed just slide open whereas the ones in the main extension have a door that can open as well as the slide. It just makes it more flexible if you have a door too. However, in the summer we can concertina the bi-folds on the garden room. This allows a lovely breeze to come through and it stops the dogs from getting in too. Now that we have the dogs it's rare that we have the bi-folds fully open, but on the odd occasion that we do, it's fantastic!
If we turned back the clock, I would still choose bi-folds. I'm aware that there are different options available now, so maybe we would choose a different colour from white.
The summer after the building works finished our daughter had her birthday here at home and it was fabulous. It was fantastic because there wasn't clutter about as we'd only just started living in the new space. We had the sliding doors open, it was a fabulous day, the children were in and out and it was just wonderful. We couldn't have entertained the way we do now in the house prior to the extension and garden room. The extension is such a great space for living and for parties.
It's a pity that we don't have guests more really because it's such a great entertaining space, but we entertain four legged animals now instead. When it is full of dogs there is enough space for them all to go and find their own spot and we still have enough space thereafter too.
Did the building work affect your daily life?
No, the build didn't affect us that much as a family as it wasn't disturbing our main living space. We were separate from the building work in the main house, but that's obviously because of the design.
We only lost a kitchen, so the cooking equipment was temporarily moved into the dining room. In terms of space we did lose some room, but we could still function as we were self-contained away from the building work.
If you're circumstances had been different, we would have recommended that you temporarily move out of the property so that the builders can just focus on getting on with the job.
I found the building contractor, Contrak, easy to work with. When we needed to make changes, they'd came up with solutions and their flexibility was good.
The most frustrating part for me was the windows. The windows held up everything. I wanted to be in the kitchen for Christmas. We had a two-month delay on window supply and that was a very trying time.
Would you do it again?
(Kimberley chuckles), Would I do it again? Hindsight is a wonderful thing isn't it? If I'd have known that I was going to be made redundant then I perhaps obviously wouldn't, but as it is, it's given me the opportunity to start my own business from home and relish what I'm doing now.
It's changed my life completely. When I stop and think how this new space has transformed our lives it makes me feel quite emotional.
I've set up my own business, I don't have to reply upon anybody else and if I want to sit a quick minute's break with dogs surrounding me and on me, I can! My life is just so much flexible for me and my family. Yes, it's completely changed my life.
Would I do it again? Because of what I'm doing now, in a heartbeat, yes!
We initially moved to this property for the character and we love the history of the house. After living here for some time, we realised how dark the house can be. There was only one small room at the back of the house that used to get any full-on sun. The rest of the house is made up of room upon room that don't function very well for modern day family life. After living here for a several years, we realised that it's not giving us what we want, but the new extension and garden room does.
If you walk into the old side of the house now it looks as if it's abandoned. No, I'm only joking it doesn't really.
I now have the best of both worlds. If we don't have many guests in when it's cold, we do go into the older part of the house and have a nice fire and sit roasting. At Christmas we can make it nice and festive and cosy with the fires. When the family come, we have space to filter through and spread out. We now have the traditional side and the flexible side. So now it is like having two houses, but they work well together.
As my daughter gets older, she'll probably move into the older side of the house or even the garden room. We have so many options available. The house is just so flexible now.
You could say that the new extension is like a 'dog hotel' as they spend most of their time in the new part of the house, but believe me, they can find their way through to the old part if they really want to. Usually we find an escapee trying to snuggle up into bed with one of us.
My daughter used to have a fear of dogs before we had our own and now, I've started the business it's great because she gets involved and looks forward to certain dogs arriving. The new extension has allowed the business to come to fruition and it's made a positive difference my daughter's life too.
I do have puppies from 12 weeks onwards. I know that my house is never going to be fully clean but is sure is practical with the hard floor and the space.
The floor is real timber isn't it?
Yes, its oak on engineered board from International decorative services, Tuscany, Toffee Oak. It's quite good, it does move a bit in summer but overall, it's hard wearing and that's what I need now with the dogs in the house. It was a good choice.
Another benefit of the extension now that we have the dogs is the downstairs utility space. I'm so pleased that I said that I wanted a downstairs utility but with a shower, it's a godsend!
It's good because I can wash the dogs off if they've get covered in mud when I come in from a walk. I can take them straight in from outside and shower them off. Having a downstairs shower is an absolute must with dogs!
What's next for the property? Have you made any plans?
The next changes are all focused on improvements to make the stay better for the dogs and more straightforward for me. We're hoping to improve the front garden, build a taller gate and fence to make it more secure for the dogs and to the get some agility equipment in the garden at the end of the year too.
Would you recommend Croft Architecture to a friend or family member and would you use us again?
I have done and I absolutely would recommend Croft Architecture. You were recommended to me too.
It all could have been done a lot cheaper, but our architect, Anthony, managed the whole process from the initial concept through the design process and throughout the works to completion. I would never have been able to do this myself. I just didn't have the time or the ability. Your team did everything for us, made is so easy and we felt reassured that we were in safe hands.
Did you find that we opened your eyes to options that you didn't know existed? For example, had you have done it yourself do you think that you would have ended up with a more limited scheme?
Definitely yes. I think that if I'd just used someone just to do the drawings and then managed the rest of the project myself to save money, I don't think that it would have ever happened to be truthful.
So, using our team facilitated the scheme then?
Absolutely. It wouldn't have happened without you. I simply didn't have any time or the experience. In my previous job I was out of the house 13 hours a day working, I had a younger child than I do now, and I was doing it all on my own. It wouldn't have happened if Croft Architecture hadn't have done it all for me.
That's fantastic to hear and that's what makes our job so rewarding. We're so pleased that we've been able to improve the layout and living space for your family, bringing new light and flexibility for the future.
Thank you for inviting us back and for sharing your experience with and everyone. It's great to know that the extension is uniting the family together in one living space creating a 'A House with a Heart.'