The Party Wall Notice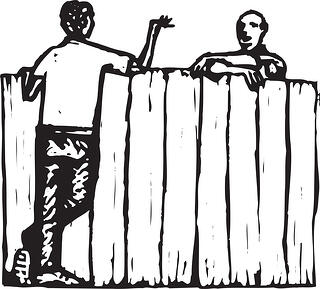 When having a big party at home, it's only polite to inform the neighbours. There's no obligation, that's just what good neighbours do.
The same courtesy applies to working on your party wall, depending on exactly what you wish to do. The major difference is that there can also be an obligation under the Party Wall Act to submit a Party Wall Notice.
If you were having an intimate dinner party you wouldn't need to bother your neighbours, unless of course you were inviting them.
The same applies if you want to do some simple jobs to your party wall such as putting up shelves, changing an electrical socket or digging out plaster to replace some wiring.
Who Do I Inform?
If you do want to carry out some major works to an existing party wall then you must inform ALL adjoining owners of your intention. For example if next door is a single residence then you will need to inform the owner. If there are multiple residences, i.e., flats on each level, you will need to inform each adjoining owner.
What If I Don't Tell My Neighbour?
If you start work without issuing a Party Wall Notice (where one is an obligation) then adjoining owners may seek to stop your progress. They can do this by getting a court injunction or by using other legal redress.
While the Party Wall Act contains no enforcement procedures for failing to serve a party wall notice, upsetting your neighbours is not in your best interest. While they cannot stop you exercising your rights under the Party Wall Act, they can influence how and at what times the work can be done.
What's My First Step?
It's often much better to take the neighbourly approach and agree works with the adjoining owners up front. By explaining exactly what you wish to do and how it will affect them you can resolve many of the possible problems before they occur.
How Much Notice Do I have To Give?
You need to give notice at least two months notice before you start the work on a party wall. Excavation works adjacent to a neighbour's boundary only require a minimum one month notice. The notice is only valid for one year so don't serve it too early.
If you have taken the neighbourly approach with an adjoining owner discussing the works over a cup of tea, your neighbour may agree for you to start the works early. However they don't have to, so make sure to stock up on their favourite biscuits!
How Do I Give Notice?
You (or your professional adviser on your behalf) need to write to the adjoining owner(s) explaining what you plan to do. There is no official form for this (though some template letters do exist). You must include the following details in your correspondence:
your own name and address (joint owners must all be named, e.g. Mr A and Mrs B Owner
the address of the building to be worked on (this may be different from your main/current address)
a full description of what you propose to do (it may be helpful to include plans but you must still describe the work)
when you propose to start (this must not be before your notice period has ended).
Don't forget to date it so everyone knows when the notice period starts and finishes. It is also advisable to highlight that it is a Party Wall Notice under the provisions of the Party Wall Act. The Communities and Local Government guide on the Party Wall Act gives some example letters.
You can deliver the party wall notice in person or send it by post. Just remember to provide one for each adjoining owner.
If the property is empty or the owner unknown you may address the notice as "The Owner" and then fix it to a conspicuous part of the premises.
You don't need to advise the local authority about the notice, though they should be notified as required for planning applications and building control applications.
Finally once the notice is submitted simply await your neighbours RSVP - perhaps have another cup of tea?
We'd like to continue the conversation here so why not RSVP to us about this subject by leaving a comment below? Also if you enjoyed the article, or just really love tea and biscuits then share it with your friends... or neighbours.
Related Reading: What is a Party Wall?