Carl Croft
is the founder and managing director of
Croft Architecture
, based in Stafford, in Staffordshire since 2009. Carl has gained significant experience within the industry, working for two renowned architectural practices in Staffordshire, before establishing his own firm. His goal is to create a legacy of great architecture by improving the way we interact with the environment. He is also a member of the Stafford Chamber of Commerce, where he actively helps local businesses. So we are proud to bring you the Designer Insights of Carl Croft.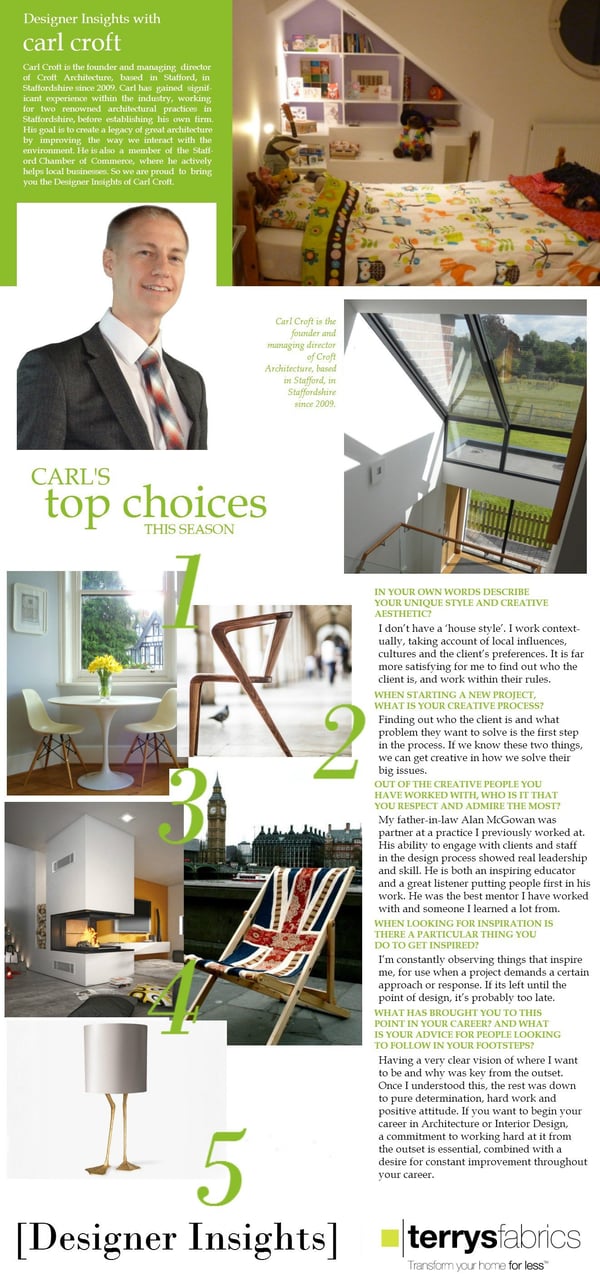 1) In your own words describe your unique style and creative aesthetic?

I don't have a 'house style'. I work contextually, taking account of local influences, cultures and the client's preferences. It is far more satisfying for me to find out who the client is, and work within their rules than it is to impose mine on them.

2) When starting a new project, what is your creative process?

Finding out who the client is and what problem they want to solve is the first step in the process. If we know these two things, we can get creative in how we solve their big issues.

3) Out of the creative people you have worked with, who is it that you respect and admire the most?

My father-in-law Alan McGowan was partner at a practice I previously worked at. His ability to engage with clients and staff in the design process showed real leadership and skill. He is both an inspiring educator and a great listener putting people first in his work. Though he never officially mentored me within the practice, he was the best mentor I have worked with and someone I learned a lot from.

4) When looking for inspiration is there a particular thing you do to get inspired?

Most people fill up their car before it runs out of fuel. Similarly I'm constantly observing things that inspire me, for use when a project demands a certain approach or response. If its left until the point of design, it's probably too late.

5) What has brought you to this point in your career? And what is your advice for people looking to follow in your footsteps?

Having a very clear vision of where I want to be and why was key from the outset. Once I understood this, the rest was down to pure determination, hard work and positive attitude. If you want to begin your career in Architecture or Interior Design, a commitment to working hard at it from the outset is essential, combined with a desire for constant improvement throughout your career.

Courtesy of Terry's Fabrics.