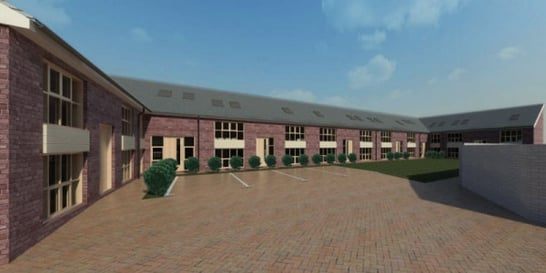 We are pleased to bring news that planning approval has been granted for a town centre site development of new homes in Burton-upon-Trent, Staffordshire.
Croft Architecture has transformed the redundant town centre site consisting of disused workshops, offices and storage buildings into an impressive courtyard community of ten new residential dwellings.
The site is conveniently located within a short distance of the town centre with the ten new homes being ideally positioned to access Burton-upon-Trent's shops, bars, restaurants and transport network in the town centre.
The town centre site is located along a prominent route into Burton-upon-Trent, however the new homes are well concealed from the road and the surrounding residential properties. The courtyard arrangement of the proposed design provides privacy to the residents creating an enclosed central community area.
Seven of the newly built homes will form the new courtyard community on the town centre site. The homes have been designed to offer a single aspect over one and a half storeys providing privacy from the neighbouring residential properties, directing the home owners views towards the open courtyard which offers a central communal garden space.
The seven newly designed courtyard homes on the town centre site will provide:
Two generous bedrooms
Open plan living and dining accommodation
Shared open plan courtyard community garden space
Parking facilities
An existing property built in the Victorian period has been adapted over the years for commercial use, and the former garden and grounds became storage. It is the removal of these buildings and reinstatement of the land to residential use that created the space for the town centre site and enabled the new community of homes to come into being.
The Victorian building will be carefully converted and extended to the rear creating three apartments that consist of two bedrooms over two storeys. The apartments will provide an open plan kitchen, living and dining area and the residents of the restored Victorian property will shared courtyard garden and parking facilities.
The proposal will help to fulfill the local need for new town houses in Burton-upon-Trent, while bringing a more appropriate and neighbourly use to this town centre site.
While we have had great interest and inquiries for the newly designed dwellings, it is not yet clear when the will be available to the market.