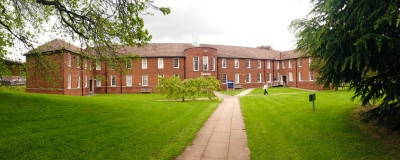 In Brief
Client: Keele University
Location: Tawney Building, Keele University
Project Value: £300K
Completion Date: Start November 2014 / finished February 2015
As the UK's largest first campus university continues to grow from strength to strength, Keele University's infrastructure and support facilities for staff and students required a new design solution, to ensure the efficiency and successful functionality of student support services, based within the Tawney Building.
The Tawney Building's Support Services required a full refurbishment and conversion of the current facilities. The new design was required to be fully accessible, creating new modern office spaces and a reception area, to enhance the working environment streamlining services for all.
Work was carefully planned and phased to allow continuous occupation throughout the contract meaning that there was minimal disruption to the university services.
In Context
Keele University was founded in 1949 by Lord Lindsay. The foundations of the University arose from Lord Lindsay's experimental and inquisitive nature to investigate how the learning environment can intellectually stimulate students to excel.
Richard Henry Tawney (1880-1962) was an economic historian, social critic and advocate of adult education. Tawney's works had a profound influence on Lord Lindsay which inspired Lindsay to create the 'Keele Experiment', which began life as the University College of North Staffordshire in 1950.
The Tawney Building was one of the first structures to be built at Keele University in 1953, designed by J A Pickavance. Lindsay drew much of his inspiration for Keele from the American educational philosophy model. The Tawney buildings red brick, Neo-Georgian style with a cupola emulates a typical design of many American liberal arts colleges at that time.
Over the last sixty years the University has provided an engaging and diverse environment for students and staff to work and reside, creating its own community on campus and it continues to deliver Lord Lindsay's unique approach to studying.
Our Approach
The university required a full refurbishment of the existing 1960's Tawney Building. The phasing of the works allowed for the safe and smooth transition of each administration department to their new facilities.
The new design solution has significantly improved the use of space within the existing building, providing a much better configuration for relocated departments in the Tawney Building.
The transformation of the interior and exterior spaces into fully accessible and modern administrative, finance and reception areas will successfully support staff and students as the university continues to grow.
Keele University takes pride in its learning ethos of producing distinctive graduates, and world- leading research in an experimental setting. It was important to convey this through the design, emulating Lindsay's unique approach to learning and the charisma of Keele's pioneers, such as Richard Tawney, thus providing an engaging and diverse setting for students and staff to study, work and reside.