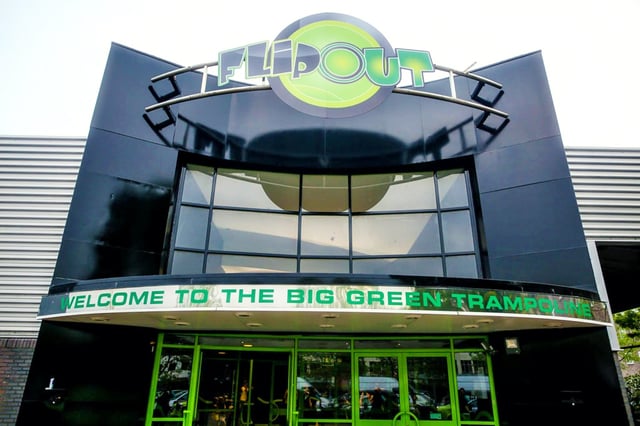 In Brief
Client: Flip Out UK
Location: Wandsworth, London
Completion Date: Completed May 2016
We were appointed by our client, Flip Out, to transform a former Mecca Bingo Hall that stood redundant in the busy London suburb of Wandsworth.
The empty Bingo Hall was a perfect blank canvas to transform the building into an impressive new recreational facility within minutes of the thriving borough of Wandsworth.
Time was of the essence for Flip Out. They were extremely eager to get the project started to meet with their impending opening deadline and determined budget. The building already had the required planning consent from its former use as a leisure facility, when it previously used as a bingo hall.
Flip Out Wandsworth required help from our team at Croft Architecture to swiftly and successfully acquire Building Control Approval for their project to progress rapidly, ensuring project completion on budget and on time for the business to open before Summer 2016.
In Context
The concept of Flip Out Trampoline Centres offer so much more than just a trampolining club.
Flip Out is a leisure phenomenon from Australia that's so popular there the franchise had rapidly spread across the country and now Australia's largest trampolining sensation has reached the UK.
Flip Out aims to provide a unique and fun experience for all, no matter the purpose of their visit, whether they've arrived for a highly intensive session to improve their skills, going to a children's party or simply sitting back and relaxing with friends in the café.
There's something for everyone, no matter their age or reason for visiting. The Flip Out experience aspires to delight all.
The Concept
The main aim of the refurbishment for the Flip Out Trampoline Arena was to provide essential recreational space and facilities, whilst modernising the empty existing building to create an exciting yet safe environment for health, fitness and most importantly 'fun'.
It was essential to successfully convey Flip Out's brand & ethos throughout the conversion. Our team at Croft Architecture wanted to create a fresh modern leisure facility for the Borough of Wandsworth, establishing Flip Out as a new "Social Hub" within minutes' walk of the town centre.
It was essential to create an environment where people of all generations would be inspired to visit on a regular basis, to maintain a healthy lifestyle, whilst creating an exciting new 'hub' to meet, exercise and have a good time.
Our Approach
Flip Out's short deadline and budget for this scheme meant that time management and financial control was at the forefront our teams' project plan and execution. Upon meeting with client and surveying the location, we immediately appraised the site to identify the property's suitability for a new Flip Out trampoline arena.
The premises already had the required classification of planning useage in place to progress the project further, but our team at Croft Architecture needed to assess the buildings suitability for our client's business model and identify whether this building would be viable for our clients to progress on this site.
Whilst surveying the site we identified that the former Gala Bingo Hall was an appropriate property for a new Flip Out trampoline arena, but it required a comprehensive transformation to ensure that the building complied with the latest Building Regulations.
Design Approach
It was imperative for the interior design to emulate the Flip Out brand style, that's vibrant, fun and funky.
Our design for the new arena corresponds well with the Flip Out brand, creating a new modern, light and spacious environment for Flip Out, whilst ensuring that it complies with the latest building regulations, covering fire safety matters and also access.
The scheme accurately conveys 'Flip Out's' ethos'; of fun filled, high energy experiences that entertain not just children, but people of all ages, in a new engaging environment that also considers the needs of spectators too.
Visitors are greeted by a radically transformed awe inspiring space, using Flip Out's vibrant and exciting colour scheme of green and black, combined with galvanised look to produce an urban feel to the trampoline arena and colossal graffiti in keeping with the 'Street style' to truly convey Flip Outs' ethos of a fun filled brand-new experience.
Flip Outs' business concept was an important design consideration for our team. The business' 'raison d'être' was to create a facility that would not only entertain the kids but also the accompanying adults too!
Our design overcomes the generic stereotypical apprehensions of noisy and boring play centre environments for spectators, by creating a viewing area where family and friends can sit back, relax and enjoy watching the thrills and spills in comfort, whilst still being able to keep a watchful eye out to ensure the safety of their youngsters.
The large modern indoor arena has a variety of designated zones for the wide range of activities and age groups combining play with health and fitness.
Flip Out Wandsworth offers:
Flip Out Wandsworth is officially London's biggest trampoline park with 76 trampolines over 40,000 square feet over one level.
Smaller children's trampolines and safety foam pit.
Adult or larger trampolines and safety foam pit.
3 walled runners to create the ultimate bouncing experience from floor to wall.
'Slam Ball' where jumpers can practice their bouncing & basketball skills all at once with trampolines and basketball hoops!
Half Pipe Walls for the ultimate bouncing experience to try out new skills.
Little Ninjas and Adult agility classes give you the chance to spread your wings to learn new flips and tricks to bounce in style.
The DJ Booth provides the all essential background music in the evening to excite and inspire jumpers moves.
There's a human Pinball Circuit, where you can endlessly bounce between two trampoline walls
and fall into a huge pit filled 38,000 foam blocks to dive into.
A parkour area where you can try free-running.
Party in style with Flip Out Wandsworth in a purpose built party rooms.
Calm and relaxing café & spectator's area.
A large free car park.
Our team closely managed the project on behalf of Flip Out Wandsworth; leading the project team, coordination of on site work and meticulously monitoring progress, to ensure that the scheme was progressing technically in accordance with the drawings, schedule and budget.
A strong working relationship between our team and Flip Out enabled us the rapidly propel the project forwards within a short time frame. We're extremely pleased that scheme was successfully completed in accordance with Flip Out's timescales and budget for the business to open ahead of schedule.
Want to find out more about Flip Out? Click here to take a look at some of the other projects we've worked on for Flip Out at other locations in the UK.
From boingification to springology, discover all you need to know about the benefits of flipping on the UK's biggest trampolines at Flip Out UK here. Flipping marvellous!