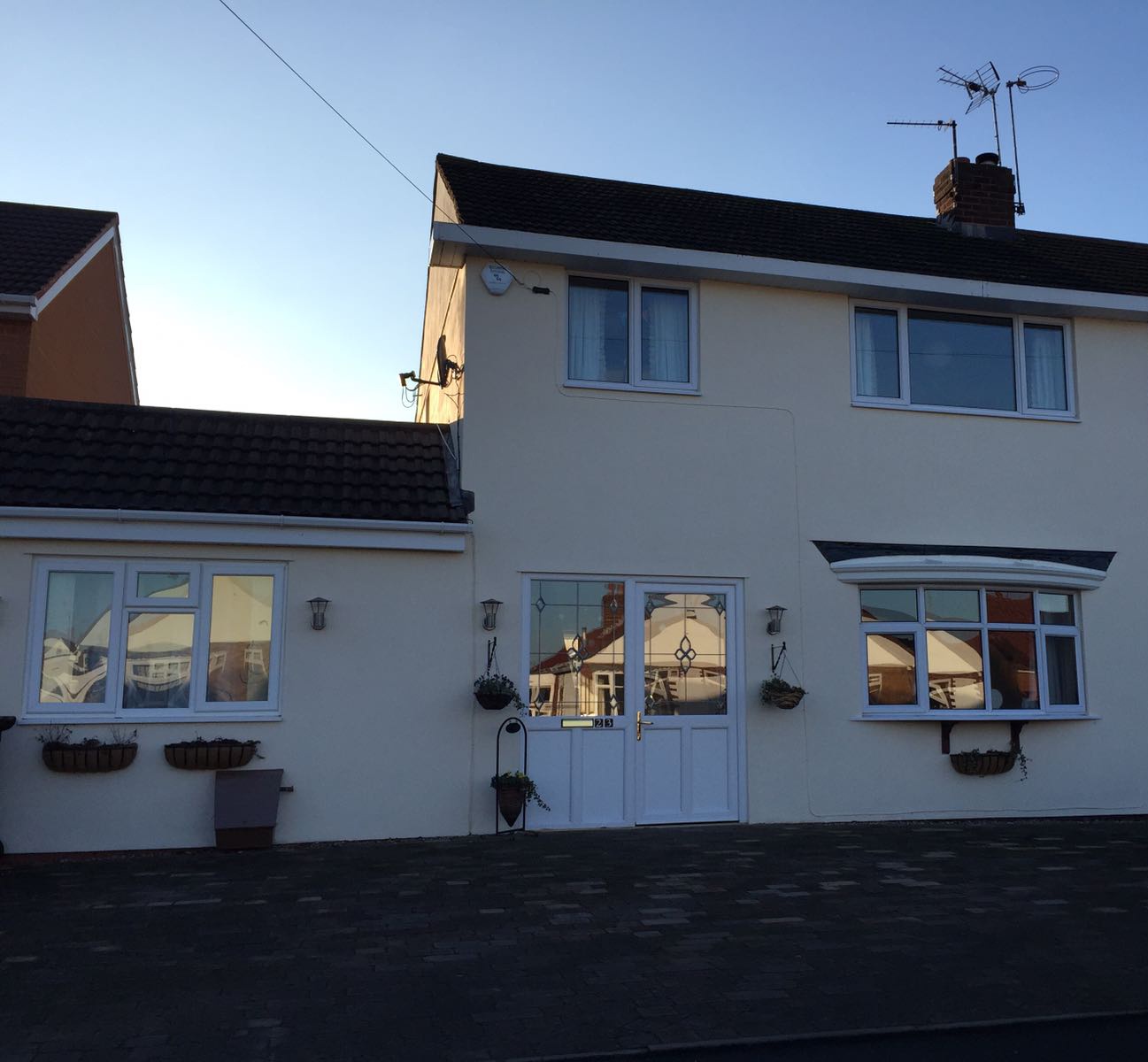 In Brief
Client: Private residential client
Location: Rugeley, Staffordshire
Completion Date: Completed 2017
Our client's purchased the semi-detached house to relocate to Rugeley, Staffordshire, due to an unfortunate accident. Their circumstances had changed and the layout of the downstairs living space within their new property was not functional for their future living requirements.
Ill health within the family necessitated their urgent need for adapted living space that supports and enhances the routine of their everyday life, whilst creating a home that does reflect a dwelling for a physically challenged person.
The existing dwelling impeded access and the internal space that once worked for the family was now impractical to support a very different lifestyle.
We were appointed by our clients to help them create a design solution that responds to the needs of the family for now, and in the foreseeable future. Our client required assistance to alter the ground floor and external space of their home, creating a design and layout that's flexible and accessible into a friendly living space to accommodate their changing care needs.
The project includes the conversion of the ground floor, into an accessible and wheelchair friendly living space.
In context
For the able, every day is a process of repeatedly accomplishing daily routines, which are usually never given a second thought because it's believed our lives will always remain exactly the same.
Our experiences of the built spaces within our lives are generally frictionless. However, life can change in an instant, whether it's altered by ill health or unfortunate accidental circumstances. It's only when we're presented with life changing conditions do the 'normal' processes of our everyday lives, such as getting up, using the bathroom and kitchen and going out, take varying amounts and types of effort which may require assistance.
When we become less able we don't often fit with the practical assumptions that underpin the 'normal', unnoticed every day, ways of doing things.
How then, can we begin to unravel the 'normal' through design?
Rethinking people's ability and how architecture can be used as a powerful tool to design differently to enhance and support people's lives. It's essential to understand the relationships between people and space, as well as how to design better spaces. We often fail to notice the effort involved by those less able when physically negotiating their surrounding space. Our level of physical ability changes our sense of awareness of the space around us and extra thought needs to be taken when even undertaking the simplest tasks that we may all take for granted.
Our approach
Accessibility is rarely seen as a creative starting point for design, however for this project accessibility and inclusive design were at the forefront our client's needs.

Stereotypically when asked to think about the design for an accessible living space the preconceived perception is that of uninspiring, clinical designs constrained by regulations. We wanted to steer clear of creating a dull and clinical feel for our clients whilst complying with the latest building regulations. In fact while many of the design solutions were inspired by necessity, they would all be welcome in any home.

Rather than seeing the level of ability as a conundrum that architecture needs solve, we thought more explicitly about habitation working closely with our client and their occupational therapist. We needed to envisage our clients daily routine and the impacts that their current home had on their life as well as the rest of the family.

Our everyday life is focused on using the immediate space around us whether that's in our home, public buildings or the urban space that we occupy. A successful design should consider how our bodies connect with this direct space through repeated performance which then becomes a part of a 'normal' routine. Design has an immediate impact on the ease and enjoyment of daily life, consequently influencing our thoughts and feelings about the design of the space we occupy.

It was imperative for us and our client that we created an accessible home that is not obviously occupied by a physically challenged person. Our design has removed the raised step to the property and subtly raised and ramped front drive, to gently slope to the client's front door. The original entrance to their home was too tight and therefore was replaced with a modern alternative to provide extra assistance for compliant easy access.

The ground floor of their home has been transformed completely and organised into conventional succession of increasingly private spaces: their is now a downstairs bedroom with an en-suite wet room, a living room, kitchen and dining area, all which are comfortable with accessible passage and easy manoeuvrability within each space.

Sliding bi-fold glass doors create a light and airy feel and they lead into the conservatory. The route out of the conservatory has been altered to create a flat level surface for easy access out into the rear garden and onto a raised patio.

A sense of unity and calm has been created with seamless flow of space from room to room. The stainless steel kitchen has been designed to a high specification and provides any user with the ability to reach everything easily within a simple yet comfortable space.

Our design for accessibility looks towards future-proofing any building for our clients providing reassurance that if their needs change they can remain in their own home. The layout of the adapted ground floor space leaves provision for our client to add additional accessible space in the loft in future if so required.

Our design not only, meets with our client's specific needs and preferences, but also complies with the Governments legislation 'Designing health and community care buildings (HBN 00-01) and also latest Building Regulations.

Adapting the home to meet the changing needs of our client were VAT exempt for all cost relating to the project except for professional fees.

This is another project that we at Croft Architecture found really rewarding in having designed out the everyday barriers to leading a 'normal life'.