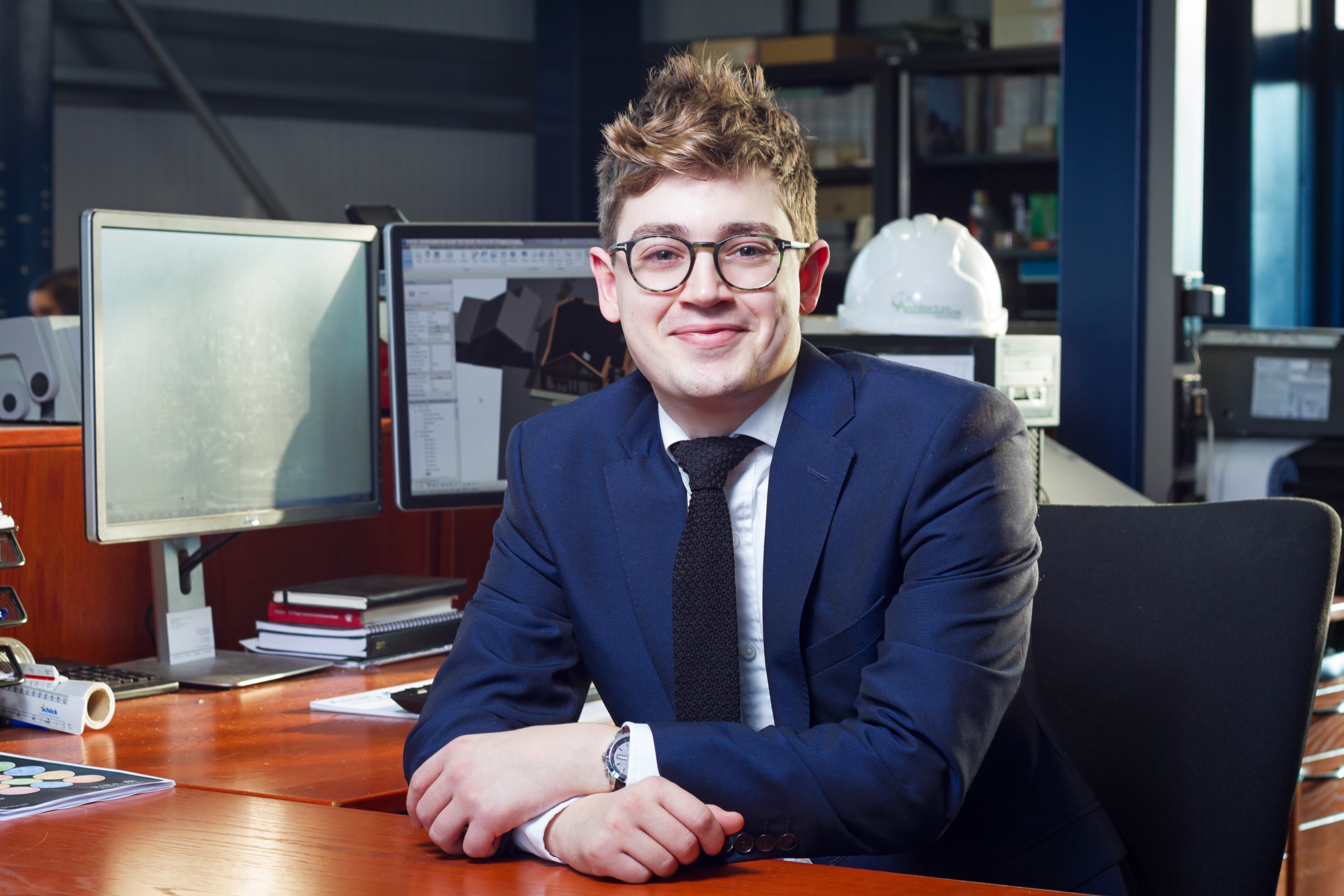 We're delighted to announce that Jonathan Bedford, or Jony, as he's known to us all at Croft Architecture, has been with the team for one year
!
Jony became part of our dynamic team in March 2017 and he's been providing excellent additional architectural support for our increasing client base.
So, let's find out a little more about Jony.
Over to you Jony.
Can you tell us a bit about yourself and why you chose to become an architect?
I was born and grew up in Staffordshire and after living in Liverpool as an undergraduate student, I'm pleased to be back in my local area and I'm proud to call Stafford my home town once again.
Sometimes our area is described the place that's somewhere between Birmingham and Manchester, with the region constantly displayed as a wasteland with a failing pottery industry and deprivation.
However, I'm proud of our regions heritage and see our area in a completely different light. It angers me that we are portrayed in such a negative way in the media. Staffordshire is labelled as 'the creative county' and lives up to its name and more, much more.
Stoke-on-Trent and Staffordshire have been a hub of culture for over 300 years. The innovative people of our area took the earth from the ground and made art by skill and hard work.
Our community aren't just makers of art, culture is in people's veins, and as well as the raw materials that lie under our feet. The area was once the capital for the Kingdom of Mercia and it's now a city of makers, writers, crafters and artists with thriving town centres, traditional market towns, cathedrals, stately homes and much more.
Staffordshire in my eyes is a hidden gem, privy to only whose who are appreciate the historical and cultural significance of our region in British history and today's cultural scene.
The experimental nature of the regions masters potters, the excellence of workmanship and emphatic hard work are the hallmarks of Staffordshire artefacts in general.
The local work ethics and creativeness of our county instilled a passion for design and architecture in me from a young age. This inspired me to develop my skills and strive towards a career in architecture.
Although I'm still a relatively new recruit within the office, I've learnt so much in the past year and I am looking forward to learning much more over the coming years from all the inspiring talents around me at Croft Architecture.
Did you have a keen interest from a young age to be an architect?
At the age of five I decided that I wanted to be the prime minister, but as time passed-by I realised that I was more interested in drawing.
As a child, I was always very creative and imaginative, and I would draw for hours on end. I used to take every opportunity that arose to draw, from sketches on paper at home and to pictures in the sand on trips to the beach. I was always keen to be creative, no matter where I was.
Staffordshire was truly an enjoyable and influential place to grow up and together with my passion for art and design, I decided to pursue a career in architecture.
There's information about becoming an architect on the Croft Architecture wesbite. Why not take a look I found the info really useful.
Can you tell us a bit more about your architectural studies?
To kick start my journey to becoming an architect, I decided to undertake my undergraduate degree at Liverpool John Moore's University on a full-time basis.
After completing the first two years of my degree course I decided to conclude my architectural journey by working part time practice to gain invaluable experience alongside my academic work. My intention was to propel my progression by incorporating both study and experience at the same time.
Whilst studying at John Moore's I lived in Liverpool prior to joining Croft Architecture. Living in such a large city in the UK gave me a broad comprehension of diverse architectural styles and practices; however, Staffordshire has always been a special place to me and I'm excited to be able to return to my home town to continue my education and explore the stimulating and diverse area once again.
I'm looking forward to completing my final year of my undergraduate degree whilst working part time in practice at Croft Architecture.
Which projects have you enjoyed working on at Croft Architecture so far?
Since joining Croft Architecture, I have had the opportunity to develop my skills working on many residential projects. It's great to be involved in such a variety of projects from large scale renovations for change of use, to self-builds and smaller extension works.
It's great being part of a smaller architectural practice as I'm supported and guided by the senior architects, yet I have a good amount of responsibility for the projects I'm working on. The support they've given me is really what has helped the most.
It felt a little daunting at first, but it's presented me with the opportunity to develop my skills and knowledge in a short space of time. I feel that I have gained a tremendous amount of experience during the past year. In terms of career support, they've always been on hand whenever I've needed them. Croft Architecture always let me know when I've done a good job. It's nice to hear it, rather than just assume that they just expect it.
Do you appreciate a style of architecture or architect (past or present)?
From my studies, travels and work experience I appreciate all architectural styles, techniques and architecture, historic and current. However, like many of my peers I do favour mid-century modern and minimalist design, admiring architects such as Mies van der Rohe.
I agree with the phrase that he adopted, "Less is more", as a rule for minimalist design and architecture. He was a well-known modernist architect, renowned for pioneering the extensive use of glass in buildings and ground-breaking innovations in material technology. I find his work fascinating and I too like to experiment with materials as part of the design process.
Although I do favour minimalism, I appreciate all architectural styles and I particularly appreciate that varying styles can compliment one another. I believe that there is a balance to be made between utilising traditional building methods and materials whilst embracing technology and materials.
I have a passion for design to provide a finished structure that functions according to its use, whilst creating aesthetically pleasing buildings that, not only sit well within their context, but also have a positive effect on their occupants and users.
I also have a keen eye for detail and I take satisfaction from perfecting every detail so that they work seamlessly with the finished building.
I'm thoroughly enjoying training to become an architect and appreciate that I can design spaces that enhance the quality of people's lives.
What do you enjoy most about your job?
The most rewarding thing about my job must be meeting with clients for the very first time. I really enjoy the initial stages of the project where you're meeting people, finding out more about them and their aspirations for their project. I find it intriguing and a real privilege to be part of someone's journey, to help them realise their vision and to see my work be built. I completely share their elation when the building is complete.
What's it like being part of the Croft Architecture team?
I feel privileged to be able to join Croft Architecture. The practice represents a great opportunity to grow professionally in an environment that embraces the personality and individuality of each member of the team.
Combining teamwork and strong process-orientation, Croft Architecture struck me immediately as an office with the right attitude. I still have a lot to learn within the office as I continue my journey to qualification and I'm looking forward to learning from all the inspiring talents around me.
What are your working on now?
I'm currently working on many residential projects, one is to renovate a former youth centre to provide sixteen new apartments and another project is a new build bungalow with vaulted ceilings, creating a much-needed sense of space and light within a dark home.
What interests do you have outside the office?
When time allows it, nothing relaxes me more than reading, I'm currently reading Fire and Fury, Inside The Trump White House' Makes Waves, but I also enjoy reading about design and art too. I might be alone on this one, but there's nothing better than going for a good long run on a sunny summer evening.
Carl Croft, Managing Director,
"We're extremely pleased to have Jony as part of our growing team at Croft Architecture. Since joining the team Jony has proven he conscientious, quick to learn and he has a keen eye for detail. We're looking forward to supporting him as he takes to the next steps to become a fully qualified architect and beyond."
Once again, congratulations on your one-year anniversary at Croft Architecture!